A low rate might be a good starting point when checking out the best mortgage deals, but Kevin Roberts explains why it's essential you investigate some other vital factors too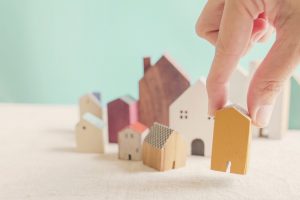 There are well over 700,000 homeowners in the UK who have fixed-rate mortgages coming to an end in 2021, which means many will need to find a new mortgage product to keep their monthly repayment costs down.
Unless they can refinance onto a new deal, these people risk automatically switching onto their lender's Standard Variable Rate (SVR) – which normally means paying a much higher rate.
Fortunately, with plenty of low-rate deals on offer, now is a good time to be looking for a new mortgage.
However, when it comes to finding the best new mortgage, there is more to take into consideration than just the headline rate.
Firstly, there are fees to consider, many of the lowest headline rates come with product fees and depending on the size of loan required, choosing a slightly higher rate and lower fee may be a much better option.
And there's another consideration – by ignoring features such as exit fees, borrowers can leave themselves susceptible to paying potentially thousands in unexpected costs further down the line.
In fact, our latest research uncovered someone with a £250,000 mortgage who chooses a five-year fixed-rate mortgage could face paying around £10,8921 in early repayment charges (ERCs) if they need to move or change mortgage before the agreed end date.
Avoiding the pitfall of focussing too closely on mortgage rates is a problem for many and of the people we spoke with about this issue, nearly two thirds (63%) said that interest rate was the most important factor when it came time to finding their next mortgage.
So, what exactly needs to be thought about when seeking a new mortgage?
The two main options…
When it comes time for an existing mortgage borrower to find a new product, there are two main options – a product transfer, or remortgaging.
Product transfers
Product transfers have grown in popularity in recent years because it can make locking in a new deal an altogether quicker process.
This option means borrowers can access a new rate with their existing mortgage lender and avoid having to go through the lengthier process of supplying their financial information to an adviser, who will then search the wider market for a range of suitable options.
There are some excellent rates available via a product transfer and it can be more convenient.
But, on the other hand, borrowers miss out on the opportunity to see whether there are potentially even better rates or more suitable products available from other lenders.
Of course, while we know that rates are not the only consideration when it comes to finding a new mortgage, the best rates could be found by remortgaging.
Remortgaging
The latest findings from the Office of National Statistics show that the average UK house price increased by 8.9% on an annual basis in April this year. For existing homeowners, this means benefiting from significantly more equity in their properties and the option to access a lower loan-to-value (LTV) mortgage product.
Mortgages at lower LTV bandings typically have a significantly reduced rate and by remortgaging, a homeowner could bring down their monthly repayments without having done anything but own the property.
Remortgaging also opens the door to making changes to the overall term of a mortgage. These days, people normally have a 30 or 40-year mortgage term (the period of time in which they must repay the loan).
Stretching out repayments over a longer period helps to keep the monthly repayment amounts down, but it also means more interest will build up over the lifetime of the loan.
To counteract this long-term build up, homeowners can reduce their mortgage term once they've reached a stage where they can afford higher monthly repayments.
This can be a good option if someone in the household has seen their earnings increase and can therefore afford to pay back the mortgage sooner.
Remortgaging also allows borrowers to discuss their protection needs. With the crisis bringing to the fore the importance of protecting ourselves and loved ones, understanding how products such as critical illness cover, income protection, or even life insurance could help to guard against unforeseen health issues is worthwhile.
Which mortgage is 'right'?
The 'right' mortgage is entirely dependent on a person's individual circumstances, their plans for the future and, ultimately, their financial position.
When we spoke to consumers about their mortgage perceptions, just 13% felt ERCs were an important factor when choosing their next product.
However, anyone planning to move home in the near future may need to consider how an ERC could leave them having to fork out thousands in unexpected charges should they want to remortgage or move home.
There are many ERC-free mortgages on the market, so speak with an adviser about whether one of these could be a better option.
Our latest mortgage data also shows many people would like to port their mortgage to a new property and this should be another consideration when seeking a new product.
Those wanting to make home energy efficiency improvements might also wish to consider if a green mortgage is suitable for them.
These mortgages reward homeowners for making improvements to their home's EPC rating and others even provide a free EPC assessment. These mortgages can be good for people living in older properties.
Whether wanting to learn more about exit charges, incentive-based mortgages, or simply how they can better manage their monthly repayments, for homeowners, seeking advice is usually a sensible first step.
Working with an independent mortgage adviser has many benefits, including providing much needed reassurance during this difficult period and having an expert to advise on the best outcome for your needs.
However, importantly, it also means access to the largest range of mortgage options. That is because many mortgage lenders offer exclusive products via advisers and they can also gather product options from many different providers.
Kevin Roberts is director of Legal & General Mortgage Club